Payment Forms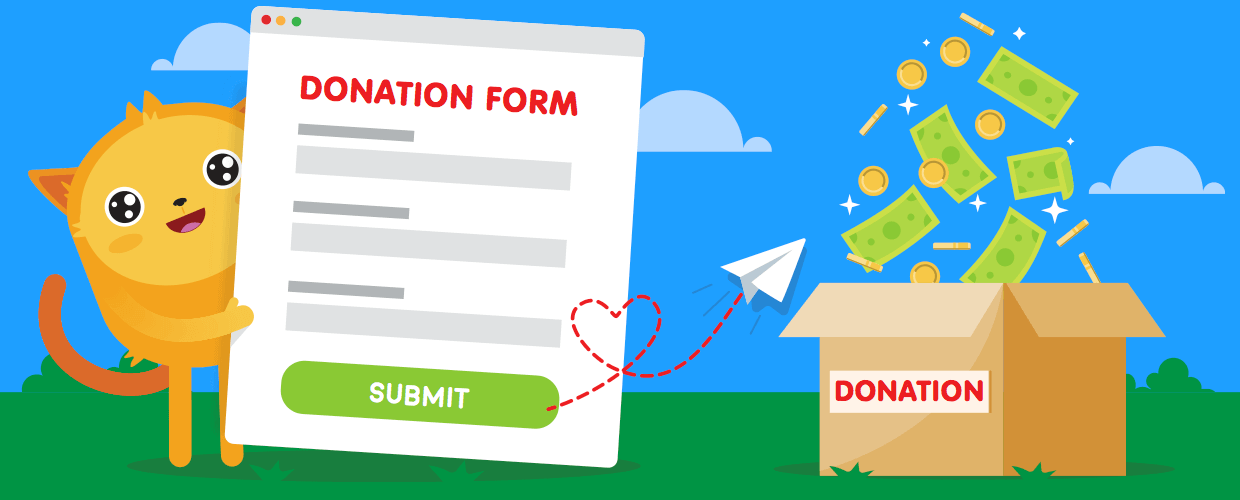 People are eager to donate to your nonprofit, even if they don't know it yet. Because when someone believes in your cause, it makes them feel good to support what you do -- which is a big reason why in 2016, US nonprofits collected a staggering $390 billion in donations (according to Giving USA). That's a lot of dough! To put the number into perspective, that averages out to be about $1,200 per every citizen.
But the question remains: How does your organization get a piece of the giving pie? How does your nonprofit stand out in a world full of other charities that need help at the same time? At JotForm, we wanted to provide a resource to help nonprofits and schools navigate the awkward, tedious, and stressful world of giving. The following guide will help your nonprofit identify donors, optimize your site for maximum donations, use helpful technology, and much more.
Worldpay US help you to provide the best business credit card processing payments solution for you. In the future, you just need to focus on marketing and increase increasing your sales. Worldpay US protects your customer data and reduces liability w...
Integrate your forms with Chargify and allow your customers to pay with credit cards. Chargify provides a lot of advantages in the recurring billings such as Trial Periods, Setup Fees, Billing Expirations, Calendar Billing etc.Set up free or paid tri...
Since JotForm is now integrated with 2Checkout, it can serve as a portal from which you can conduct transactions through 2Checkout. Submission data is conveniently stored in your JotForm dashboard and can also be emailed to you directly, as well.&nbs...
WePay is a trusted partner for us that works with users to make payments easy and profitable for you. More than a thousand top platforms already use WePay to make payments seamless, simple and safe. Integrated payments let you to capture more re...
People use First Data to get payments around the world, 2,300 times every second. FirstData can provide you with everything you need to set up an online store and expand the scope of your business with global payments, mobile-ready checkout and compr...
Services, such as PayPal, Stripe, Braintree, Authorize.net etc., allow you to collect payments from your websites. What they don't provide is integrated order forms where you can ask any kind of questions to your customer.For example, if you're selli...
Why Use Order Forms?Forms gather important data for your business. An Order Form lets you grow a customer base, see your purchase funnel, conversion rates, and much more. For example, if you have info about customers with unsuccessful payments, you'l...
PayJunction is an easy, secure and effective tool that provides getting paid online. With its smart payment processing, PayJunction powers mid- to large-scale businesses. It also provides electronic signature capturing, and comprehensive multi-user m...
Do you want to sell single/multiple items, collect subscriptions, or get donations online via an online form? You've come to the right place to do that. You can even collect payments from your Facebook Page.For this example we're going to use PayPal ...
BluePay is one of the best payment gateways for you because of its fast and secure payment processing. BluePay has emerged as a top choice for merchants and suppliers throughout the US and Canada with its omnichannel capabilities. BluePay has many pa...
Purchase Order payment tool allows you to create payment forms without payment vendor integration. In other words, no actual payments will be processed.If you would like to sell your products or collect amounts and process the payment offline through...
Whether you have a simple or complex calculation using the Form Calculation Widget on your form, you can now pass the calculated total to your payment field.What will you need to make this happen? Two important things:1. You should have a FORM C...
Getting Started A Dwolla merchant account is required for this integration. Sign up for a Dwolla account if you don't have one yet.To start accepting payments on your JotForm, you will need to create an application on your Dwolla account. Afte...
To start with receiving recurring payments with Dwolla via JotForm:1. Create a Dwolla application for JotForm (take note of the application credentials you will be provided with)2. Add a Dwolla payment to your form3. Enter the API c...
Square payments is an online payment gateway. You can accept credit and visa debit card payments from your customers and processed entirely through Square. Payments can be immediate or authorized for later capture.By connecting your fo...
Let's say your magazine site sells subscriptions, and you want to allow users to make payments periodically , but you don't want to bother them to come back to your site and fill out the form each month. Or, let's assume you run a charity site, and y...
This guide will show how to create custom items and a lot of payment options in your Payment Form. The custom payment features on this guide apply to the Payment fields in the JotForm Payment Tools.By adding a payment field to the form, the payment i...
JotForm is now bringing you the power of Braintree, a payment gateway that specializes in mobile and web payment systems.Now you can use Braintree to collect payments directly from your forms.You can quickly and easily set up all these with...
Sending online payments is here to stay. Fortunately, collecting online payments is one of the strongest parts of our service and the reason why so many people choose to use JotForm. It is no longer a tedious process to set up a payment form. In fact...
Did you know you can create PayPal Forms with a FREE JotForm account? We know you do :)Creating PayPal Forms with JotForm is quick and easy. Just follow the steps below and you'll be integrated with PayPal in no time.We have three different PayPal pa...
What is IPN?IPN (Instant Payment Notification) is a POST message sent by PayPal (for regular merchant accounts) whenever a transaction is completed on their side. This message contains all the data regarding the payment transaction completed by a for...
JotForm supports a handful of Payment Processors that would allow you to collect payments through your forms. You can sell products, get a user defined amount, collect donations or sell subscriptions.When dealing with subscriptions, you may need a wa...
When setting up Payment Forms, there are occasions when you would want to offer products with limited stocks. Yes, we have a variety of widgets that allow you to achieve that, but linking those widgets with an actual Payment Field to process payments...
People often ask, what are the differences between the two? There are two types of Paypal payment methods offered by JotForm for online forms. Here are the known differences of the two Paypal payment types.a. PayPal (Paypal Payments Standard)b. PayPa...
Collecting credit card payments is hard for startups and small businesses on the web. You need to apply for a merchant account, make sure your servers are PCI compliant, implement credit card sanity checks and write server side code to integrate with...
Sandbox Mode is a basic test tool normally for developers that completely simulates the process of payment, error responses, and reports. If you wish to know how it feels to make/receive payment, this is a featured tool that you ...
IPN (Instant Payment Notification) is a POST message sent by Paypal (for regular merchant accounts) whenever a transaction is completed on their side. This message contains all the data regarding the payment transaction completed by a form user. Go t...
PayPal is the most popular online payment service in use today. It enables you to pay, send money, and accept payments. Payments can be immediate or authorized for later capture.JotForm provides Paypal Payment Tools, one of it is the Paypal&nbsp...
With Custom Data, it is now easier to include custom descriptions to the data in Stripe payment integration. You can now directly attach key-value data descriptions to charges, customers, and most other data in Stripe payment. As with the other ...
It's great having a PayPal payment integration built right into JotForm, but what if you want to give your customers other payment options such as paying by check?Let's start by building the form. 1. Use the Single Choice Field (radio button) to...
JotForm Payment forms are now capable of using Coupon Code as another payment option.This guide will show you how to add the Coupon Code in addition to the other options that are already available in the Payment Form described on How ...
There are situations when you just want to capture a customer's payment information and keep it on your Stripe dashboard so you can charge them later with whatever amount necessary.JotForm makes this workflow easy for you. Here's how:1. Add the S...
There are 2 easy ways to test your Paypal payment form. It's either by making an actual payment or through Paypal Sandbox mode.Method A: Testing by making an actual paymentIf you are not convinced with sandbox (test) mode, you can make actual pa...
Aside from Paypal Standard, JotForm also integrates with Paypal Payments Pro or Paypal Pro. Paypal Pro enables you to accept both debit and credit cards directly from the form as well as payments from your Paypal account. These payment...
Would you like to collect orders from your Facebook page or make money from it? Adding an order form to Facebook is the first step you need to take in order to make money from your Facebook page. All you need to do is follow these simple st...
Getting startedJotForm's PayPal Express integration requires a Business PayPal account. If you don't have one yet, sign up or upgarde your existing Personal account.If you want to use PayPal's pop-up (in-context) payment system, the items you are sel...
Having a long line-up of items or products in your payment and purchase order form?Wouldn't it be much better if they are organized by having Category grouping or having sub-labels to easily spot them among the long list of items ...
PayPal API credentials (username, password and signature) are necessary if you want to integrate your forms to PayPal Pro and PayPal Express. Here's how to obtain Paypal API credentials for your account:1. Log in to PayPal.comA Business or Premier ac...
1. Log on to your Paypal account 2. Click Profile on the My Account tab.3. On the Profile page, under Selling Preferences, click Instant Payment Notification preferences4. Click Choose IPN Settings to specify your ...
Let's say you run a Charity site, and you want the donation amount to be a recurring option once your users pledged a donation. This user guide will show you how to enable a recurring custom amount donation on the form using our Payment Fields.Demo f...
You have a Multiple Payment Form, but you want to setup your own payment method? This guide will show you how to update the Multiple Payment Form. Let us get started.1. Access my forms and look for the base form that houses your payment forms. Click ...
This is a feature that will allow you to set special pricing based on the additional options that you have setup on your product/payment field. To learn more about setting up additional options, you can check this guide. If you are not yet familiar w...
JotForm's payment integrations allow you to add sales tax to the products you sell, whether tangible or not.This feature is available for the following payment gateways:Paypal (Standard)PayPal ExpressPaypal ProStripeAuthorize.Net2CheckOutPurchase Ord...
There are times when you offer a product with multiple variants and you want your customers to be able to choose many of them. Instead of creating a separate product entry for each variant, JotForm can automatically create sub-products for you by spe...
Incomplete Payment is triggered when a person submitting to your form didn't send or settle the payment after redirected to the Payment gateway, for example, Paypal Payment Page.Being informed of an incomplete payment is very important so you'd know ...
When you are selling physical items or items that need your approval prior to delivery to the customer, you may sometimes want to get payment authorization only and capture payment at a later time when needed.Luckily, payment authorization is availab...
First thing that you'll need to do is identify how many payment methods you would like to use. In this example, we'll have two payment methods, Paypal and Purchase Order.In our case, we will have a total of three forms:1st Form: Primary form th...
With our shipping feature, you may now specify a cost for shipping each item or set a weight value for each item. Assuming that you have already added the product items to your form, you can navigate to the Shipping tab in the payment wizard.1. Click...
Here is how you can fetch coupon codes from your Stripe account: 1. Open your form in the Form Builder and then click on the wizard icon near your Stripe integration question. 2. On the first page of the Stripe Wizard, click on the "A...