Getting Started with JotForm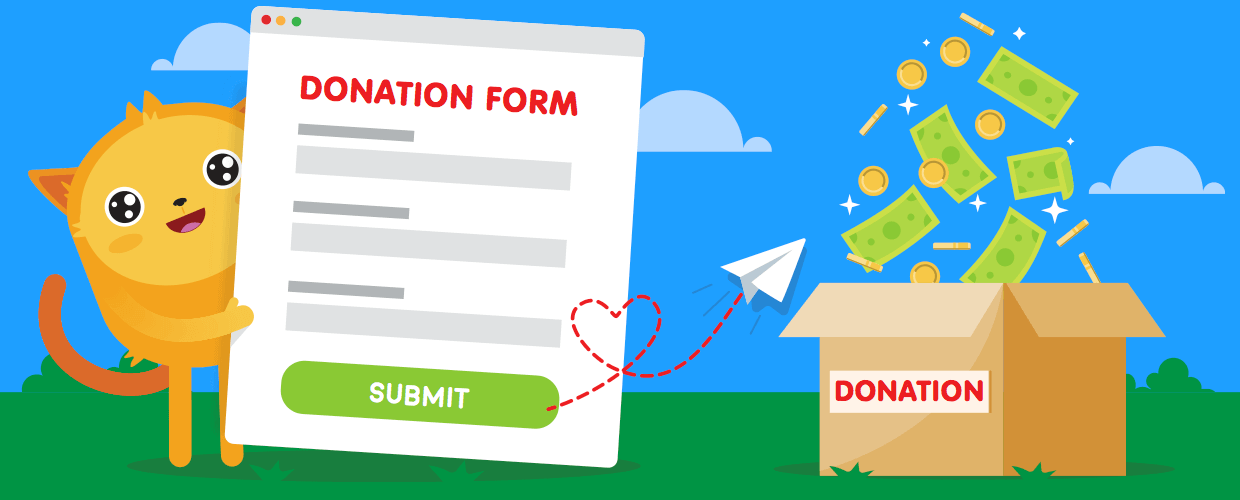 People are eager to donate to your nonprofit, even if they don't know it yet. Because when someone believes in your cause, it makes them feel good to support what you do -- which is a big reason why in 2016, US nonprofits collected a staggering $390 billion in donations (according to Giving USA). That's a lot of dough! To put the number into perspective, that averages out to be about $1,200 per every citizen.
But the question remains: How does your organization get a piece of the giving pie? How does your nonprofit stand out in a world full of other charities that need help at the same time? At JotForm, we wanted to provide a resource to help nonprofits and schools navigate the awkward, tedious, and stressful world of giving. The following guide will help your nonprofit identify donors, optimize your site for maximum donations, use helpful technology, and much more.
First time JotForm users often ask how to create a simple web form, how to set up Email Notifications, what are the ways to embed a form to a website, how to test the form to see if it's 100% working, and how can I see responses in my email and JotFo...
When you post a question to our Support Forum, you get the replies via email. Most of the time, users reply straight from their email clients and attach files, documents, or screenshots to it. But, our Support Forum doesn't accept any of these email ...
JotForm has pretty much any type of Form Fields you might need. Take a look at the complete list below and get a brief description of each one of them.BASIC FORM ELEMENTSHEADER: A Header briefly explains what your form is about. Use the Subheader if ...
Form Templates are the usual go-to solution of first time JotForm users. Whether you're looking for a template to get started with, a form that closely matches your requirement, or even just using it for the design and layout, templates are the simpl...
Applying a Theme within the Form BuilderTo apply a theme to your form in the form builder, follow these steps:1. Open your form in the form builder2. Click the Form Designer icon3. Go to Themes tab and select the theme you wish to use.Applying a Them...
JotForm 4.0 was built around the idea that making forms should be a breeze. The main goal is effortless form creation anytime, anywhere, and on any device with ease.You may have seen the improvements we had back when we launched V3 but the new sets o...
If you want to know how to change the themes of your forms, click here.If you're here to just look around to see how the form's style changes with each theme applied, we hope you enjoy the tour.DefaultNova ThemePastel ThemeJot ThemeBaby BluePaper Gra...
See why our users love JotForm so much!
To get your form URL, follow these 2 simple steps. 1. While on the Form Builder, click the Publish button2. Under Quick Share tab, click the Copy Link button to copy your form URLThat's it! Now share the form URL to your customers...
There are few web-friendly fonts that can supplement the readability & design of your web forms. You shouldn't use just any font you want to because you think it looks pretty; you need to think about your customers, too. We've searched & ga...
Changing the font size of your forms couldn't be more important. Knowing who your audience is will help you choose the right font size to use on your forms. Let's say you're dealing with elderly people. Would you still use a 12-point font size?...
What's so important about changing the status of your forms? Take this example - A client may want you to start a particular form on December 16th for use with a Christmas sale and, after the sale, pause until next year. Using this method, you'll b...
There are many kinds of form errors you may be purposely encountered in JotForm. This form error entails different meanings. Below is a list of form errors and their meanings. 1. 404 Not Found - Websites can typically be configured to displ...
Confused on how your account limits work? Don't worry, in this guide we got you covered. Here we will help you understand the different limits that your account has based on the subscription or plan that you are into. First, please visit our...
NOTICE: Our system now offers JotForm Version 4.0 but, you are more than welcome to switch back to JotForm Version 3.0 at any time within your Account Settings.Improved Online Form BuilderWe've made many improvements to our online form builder techno...
Please read this Agreement carefully to ensure you understand each provision.These Terms of Service ("Terms") govern your use of JotForm Inc ("Company", JotForm) web site located at http://www.jotform.com (the "Site") and the services that are made a...